In its 8 years since inception, Mangalayatan University students have consistently been groomed on the finer aspects of personality. Each student is actively encouraged to involve himself/herself heavily in the community, learning selflessness, teamwork and leadership at various levels. From winning collectively as a group to helping youngsters from nearby villages get closer to their dreams to organizing national-level academic and cultural events, Mangalayatan University students get an unparalleled exposure.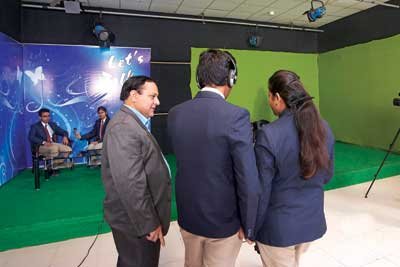 PERFECT BLEND OF THEORY & APPLICATION
In almost every stream, our curriculum has significant input from industry leaders and practitioners. Each year, we gear our teaching pattern to include the most relevant methodologies so that our students pick up skills that are relevant to today's industry requirements. Our pedagogy ensures that students apply theoretical principles to real-world problems via case-studies, analysis projects, research, live projects and events.
CONSTANT TRAINING ON SOFT AND CORE SKILLS
With a view to equip our students for a bright career, Mangalayatan University has an in-house team of trainers with high-class industry exposure. Each student is engaged in a variety of training programs from his first day at Mangalayatan University to his last. Business communication, self-presentation, problem solving and data analysis are core trainings that every student undergoes. A variety of organizations like Microsoft, HCL and others conduct workshops and seminars on specific technologies, practices and skill verticals.
The Career Advancement Initiative at Mangalayatan University has found its place as an embedded core of the syllabus. In many streams, students are doing full course modules at industry, working on projects with industry guides as part of their regular semester credit work. This is supplemented by one, sometimes two, internship stints lasting several months. This practical industry exposure, at small-to-medium size firms in the National Capital Region (NCR) as well as in the Aligarh/Agra industrial clusters, ensures that our students are not only aware of the demands of industry, but are already groomed for the challenges that ensue.
The resident students as well as day scholars are encouraged to participate in the various clubs like; Sports, Music, Literary, Cultural, Hobbies & Interest, Specialized, Social Clubs, the active membership to these clubs provide ample opportunities and exposure to planning, organizing, managing, collaborating skills. Also these clubs promotes teaming skills, cooperation, collaboration, leadership, peer group learning.
Mangalayatan University students are required to undergo a mandatory Industry Training during their course of study in applicable program. This training is an integral, evaluated part of the curriculum and its aim is to expose students to the corporate environment, so that they get a sense of professionalism and teamwork expected in employees.
In previous years, several leading organizations participated in the Mangalayatan University Internship program. Among them were: Ranbaxy Laboratories, Indian Railways, Glenmark Pharma, Jubilant Organosys, Dabur India, Wipro, HDFC, ICICI, to name a few.